Most of the ICT infrastructure of Maastricht University (UM) is offline as a result of a ransomware attack. This means that none of the email addresses of the university are working. We cannot send or read any email. This situation may take a while (weeks rather than days) to solve.
Luckily, UNU-MERIT has its own systems, which are unaffected. This means that all of us at UNU-MERIT can still use email, but at our @merit.unu.edu boxes. @maastrichtuniversity.nl addresses will not work. I assume that those of you who need to get in touch with me will know how to form a UNU-MERIT email address (hint: last_name @ merit.unu.edu).
Please assume that any email sent to me at my @maastrichtuniversity.nl address after 17.00 CET 23 December 2019 has not reached me, and will never reach me.
You can follow the status of UM's systems here: https://www.maastrichtuniversity.nl/news/cyber-attack-against-um
Those of you following the literature on the economic effects of R&D may have seen a paper by Van Elk et al. on the economic effects of investment in public R&D. Those who really follow that literature well may have seen both the working paper version, and the officially published one, and have noticed a slight change in authorship between those two versions. More specifically, I was an author (named Al) in the working paper version, but in the journal version, I was just a line in a footnote. Let me explain here how that came about.
Read more: How I got from the author line to the footnote (and back)
Nomaler, Ö and B. Verspagen, 2020, Perpetual Growth, the Labour Share and Robots, Economics of Innovation and New Technology, link at publisher
Soete, L.L.G, Verspagen, B. and T. Ziesemer, 2020, The productivity effect of public R&D in the Netherlands, Economics of Innovation and New Technology, vol. 20, pp. 31-47, link at publisher
Meijers, H., Nomaler, Ö & B. Verspagen, 2019, Demand, credit and macroeconomic dynamics. A micro simulation model, Journal of Evolutionary Economics, vol. 29, pp. 337-364, link at publisher
Gambardella, A., Harhoff, D. & B. Verspagen, 2017, The economic value of patent portfolios, Journal of Economics and Management Strategy, vol. 26, pp. 735-756, link at publisher
Bodas Freitas, I.M. & B. Verspagen, 2017, The motivations, institutions and organization of university-industry collaborations in the Netherlands, Journal of Evolutionary Economics, vol. 27, pp. 379-412, link at publisher
The topic of growth rate differentials between countries has been a main theme in my work from the very beginning. It was the main topic of my PhD thesis of 1992. Chapter 6 of that thesis contains my model of catching up and falling behind (see picture below), which was also published in 1991 in the Elsevier Journal Structural Change and Economic Dynamics. if you do not have access to that journal, you can download the paper here.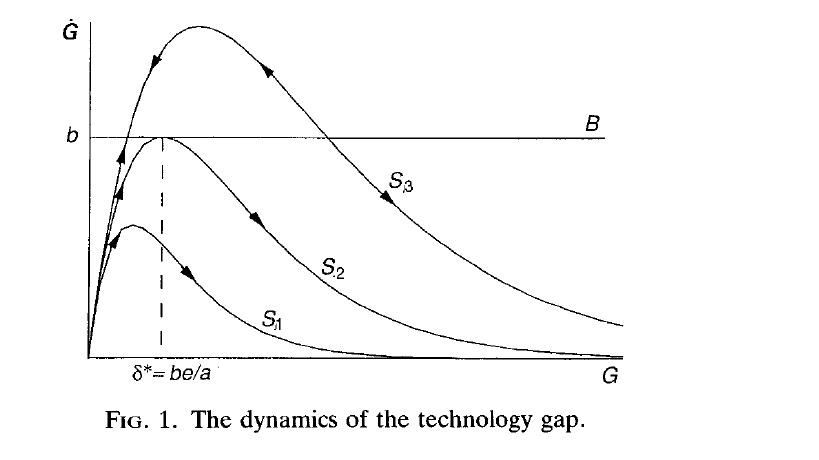 The Dutch Ministry of Economic Affairs and Climate just published our evaluation report on the R&D tax credit policy WBSO, for the period 2011-2017. The evaluation was done in a collaboration between Dialogic, APE and UNU-MERIT.
We Came As Strangers is an indie-band including guitarist Justin Sandercoe. They organized two remix competitions, offering others the opportunity to use the raw stems of their music to produce an own perspective on their songs. I took the challenge and put together a remix of Adrenaline. I kept vocals and piano, and did a new bass-track, drums, and two guitar tracks (one of them slide). I benefited greatly from advise by Önder Nomaler, although he should not be blamed for the crudeness of the result.
Here is the re-mixed track on Youtube: